Introducing Cactus
The Future of Pre-Employment Assessments
Looking for a more personalized approach to hiring? Cactus can help. Our platform allows you to create custom assessments tailored to the specific role you're hiring for.
Our advanced AI simulations provide a thorough evaluation of your candidates' skills and abilities. Say goodbye to cookie-cutter hiring methods and welcome a more efficient and effective process.
Use our library of pre-built assessments, or create your own
Create assessments in minutes
The Cactus Library is a collection of pre-built assessments, curated by our team of HR experts. Use them as-is, or customize them to fit your needs. With the Magic Assessment Builder, you can create custom assessments from your job posts, tailored to the role you're hiring for. Or go completely custom, and build your own assessments from scratch.
Multiple Choice
Multiple choice questions for quick screening
Moving beyond mere shortlisting
Reinvent your hiring process
Initiate and Monitor Candidate Journey: Invite candidates effortlessly. Use email or generate a quick link for your job advertisement, career page, or social channel. This streamlined feature also enables you to track the origin of your candidates, adding a new layer of strategy to your hiring process.

Focus on What Truly Counts: Cactus brings candidate results to life with scores, rankings, and top-performer badges, allowing you to identify key attributes that matter to your business.

Discover Your Perfect Hire: Once you've pinpointed the ideal candidate for your role, mark them as "Hired." You can then conveniently access the report cards of your successful candidates in your company overview, making future hiring decisions even more streamlined.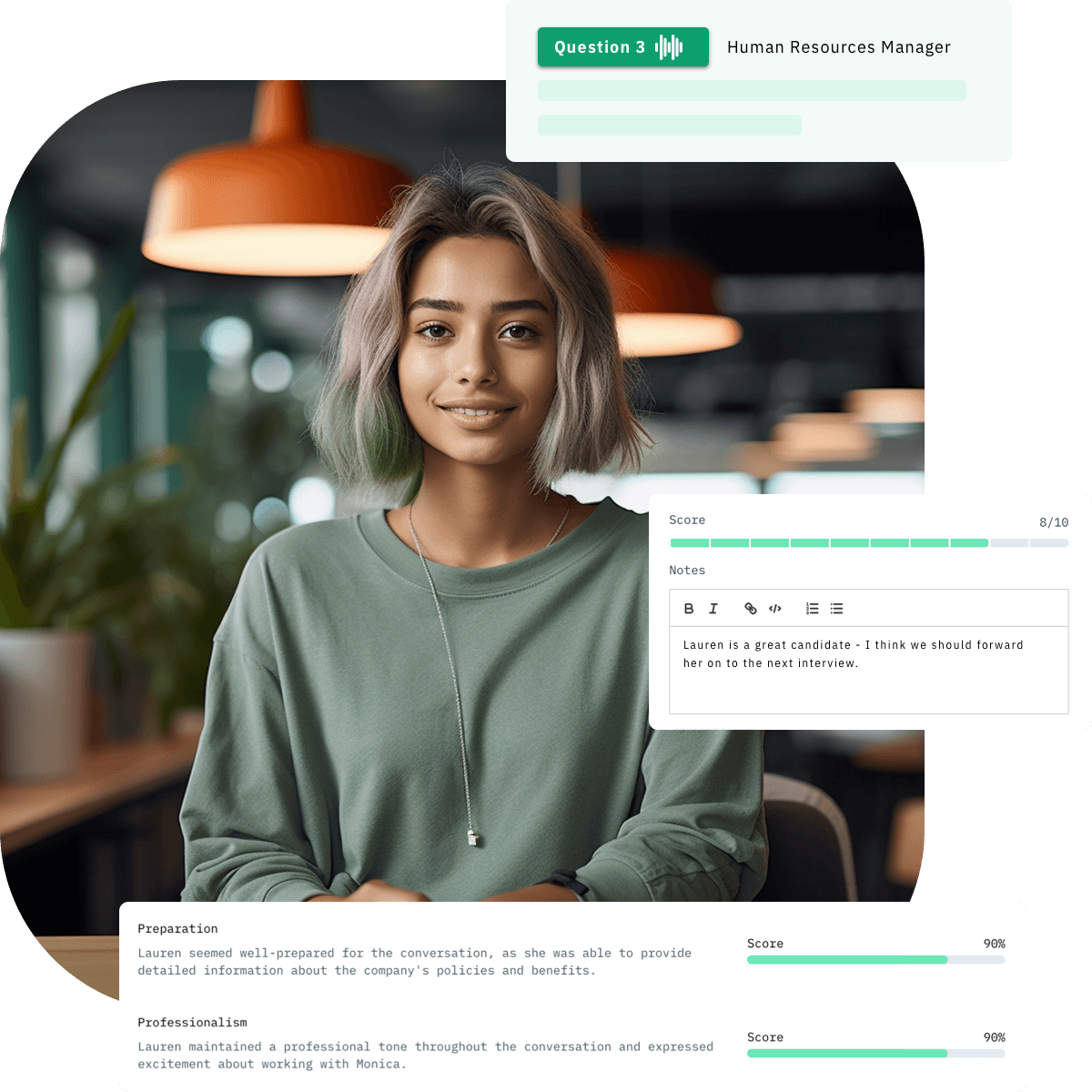 Screen candidates at scale
Cactus's asynchronous AI interviews help you screen candidates faster and more reliably.
Streamline screening
Candidates interview at their convenience without scheduling concerns.
No more phone calls
Cut out the 30-minute phone calls with early candidates.
Quicker feedback
Get immediate input from hiring managers by sharing recording.
Branded experience
Leave candidates with a memorable impression of your organization.
Structured
An equitable process where all candidates respond to the same questions.
Flexible
Give candidates with busy schedules the power to interview whenever.
Try it out
Take a demo assessment to see what candidates experience.